"As the lily among thorns, so is my love among the daughters."
Song of Songs 2:2 (Douay-Rheims Bible)
The Madonna Lily has been a symbol of purity for over 3,000 years and still is and it probably always will be!!!!!. The Marian name for Madonna Lily is the Annunciation flower and this makes total sense because the Madonna Lily is also a symbol of virginity.
Medieval depictions of the
Blessed Virgin Mary
often show her holding these flowers.
The Latin name for the Madonna lily is
Lilium candidum
.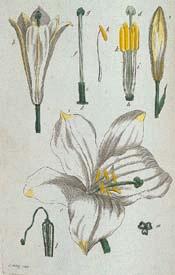 Madonna Lilies are often described as a pure white flower with 5 or 6 petals and 6 stamens and have a very strong smelling perfume. These stiff stemmed plants bloom in June and stay through July. The bulbs can be dug up in August if they are to be used medicinally or if they need to be moved to another spot in the garden. This plant, like many other Marian flowers has special uses including medicinal ones. The bulb of this plant can be made into an ointment that can take away corns and remove the pain and inflammation arising from any scalds or burns. This ointment is said to cure without leaving any scars.
Madonna lilies are very hardy plants. They grow in almost any type of soil and are resistant to frost. Their one downfall is that they are very susceptible to gray mold. These flowers would thrive exceptionally well in a cottage style Mary garden or any other garden where they can be left undisturbed. Tomorrow, on the feast of the Assumption of the Blessed Virgin Mary, perhaps you can spend some time looking at Marian images and see how many pictures depict Mary holding her symbolic flowers.
by Mia