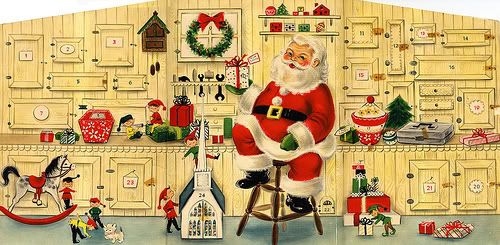 The Advent Calendar is more than half eaten up and the days to Christmas draw nearer. This advent has been very different from other years. Other years, we had school plans for all of the Feast Days, cookies pre-baked and in the freezer, the house all cleaned and by now had already been to Heritage Park to see Father Christmas. Not this year!
This advent has seen a number of the kids with the stomach bug, two trips to the hospital, endless days of lounging around hoping that everyone will feel better soon. The only main stay has been the Jesse Tree and the St. Andrew Novena. We managed to be well enough to make it to Mass to buy candles for our advent wreath. That's something, isn't it.
I have been reading my facebook feed to see all of the wonderful activities that others have been doing. St. Nicholas, Our Lady of Guadalupe, Santa Lucia went by so quickly. There was chocolate on St. Nicholas, a letter from our sponsored child from Bolivia on the Feast of Our Lady and my daughter made breakfast on the feast of Santa Lucia, but that was it. No coloring pages, no special dinners, no feast day activities, nothing. I am such a terrible example of a good Catholic mom.
I always wonder how some moms manage to do it all and have time to blog about it. During this season of life, I am lucky to get up in the morning and make it more or less unscathed through the day. I know this too, shall pass.
I still have time to get to confessions, pray more, reflect more and prepare my heart and home for the coming of Our Lord. It won't matter if the house is spotless, or if all of the kids' quilts get finished (they probably won't), tons of cookies get baked, Christmas cards are sent out, as long as my heart is prepared. Please join me in preparing for Christmas. Keep us in your prayers as we pray for you, our readers, our friends, our family.
God Bless Friends.